The results confirm the inclusion of Actisaf® and Safmannan® in piglet diets could be used in place of therapeutic zinc oxide to maintain similar feed intakes, daily weight gains and feed conversion rates.
Two groups of 300 piglets were included in the trial and monitored from 10 days of age to 94 days. One group was fed basal creep, link and weaner diets supplemented with Actisaf® and Safmannan®, whilst the other group received creep and link diets containing pharmacological doses of zinc oxide, followed by a basal weaner diet. (See below for detailed feeding protocols).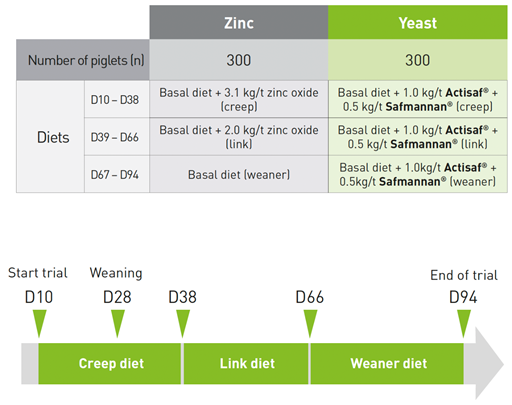 From start to finish, piglets in the yeast-supplemented group had an average daily gain (ADG) of 439.28g/head, compared to piglets in the zinc-fed group, who gained 430.95g/head. Yeast-fed piglets were also 0.7kg heavier on average than their zinc-fed counterparts when the trial ended, at 94 days old. 

Keith Norris, Pig Technical Specialist for Ireland and Northern Ireland at Phileo by Lesaffre, believes the trial results are a source of optimism for pig farmers: "The loss of zinc oxide is just one of many challenges troubling pig farmers in the UK and Ireland. We are thrilled to now have definitive trial work proving Actisaf® and Safmannan® as viable alternatives to help farmers maintain the performance and to support the health and efficiency of their pigs."
Actisaf® and Safmannan® are already well established within the pig feed market and have proven valuable in helping to improve weaning, when included in sow diets. The hindgut serves as the engine of the pig, containing trillions of micro-organisms that are responsible for digesting feed and supporting immunity. By ensuring that conditions in the hindgut are optimised for these beneficial microbes, Actisaf® and Safmannan® work together to help a pig's engine to perform at its best – improving feed conversion efficiency and supporting health in all stages of life.
"While the trial results are very exciting, it's important to remember that there are also wider applications for the use of Actisaf® and Safmannan®," continues Keith. "Both of these products have been used successfully for a long time within the pig sector - they shouldn't be viewed solely as as an alternative to zinc oxide in pig diets. The trial results evidence that both Actisaf® and Safmannan® can significantly benefit all stages of pig development and play a major role in securing the long-term viability of the pig sector."
Susan Dudley, an R&D nutritionist who facilitated the trial, said: "It was great to see there were no issues with looseness in the pigs that were not fed zinc oxide. As the trial progressed we were really impressed to see the yeast-fed pigs perform as well as those that received zinc oxide.
"The results of the trial are very positive for the pig industry. As the ban on zinc oxide comes into effect there is a greater need to find an alternative, and I would be confident that use of Actisaf® and Safmannan® can be considered an appropriate one.
"Gut health is hugely important for pigs as it can have a big impact on the long term performance of the pig, and subsequently impact profits made on farm."
More information on the trial and its results can be found here. Alternatively, please contact Keith Norris (ROI and Northern Ireland) k.norris@phileo.lesaffre.com or Georgina Phillips (GB) g.phillips@phileo.lesaffre.com.